Tips & tricks to getting the most out of Parisian student life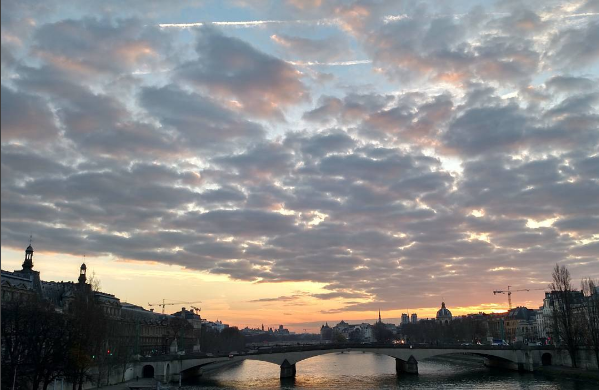 Moving is always a challenge — finding a place to live, navigating a new city — and in France it can be especially difficult. Between the language, the bureaucracy, and the jet lag, Paris can be an overwhelming and sometimes frustrating place to settle.
Here are a few tips that I've learned since moving here six months ago–some I learned the hard way, some by chance, and some by investigation.
1. Open a French bank account ASAP
It takes a couple weeks and requires a French address, but is necessary for everything from getting a transit card to getting refunds from your health insurance.
I recommend finding a branch near your apartment, as many of the banks in Centre-Ville are weary of students and foreigners, as they see too much of them. I went to a bank around the corner from my apartment and they were very friendly and patient with me. It helps to speak French or to bring a friend who does, but it is also possible to find bankers who speak English.
You'll probably need to make an appointment; don't expect to see someone the first time you walk.
2. Apply for the CAF – rental assistance
We all know the cost of living in Paris is sky-high. The good news is, there's a way to get some help paying rent! The CAF (Caisse d'Allocations Familiales) will pay you a sum of money every month depending on your income, living situation, and cost of rent.
The website is–as many French websites tend to be–a bit confusing, but there are many helpful blogs that will walk you through the process, such as this one.
Expect the application to take up to a few months to process. You will be refunded for the months you spend waiting after submitting the application, but may not get money retroactively, that is, if you wait a month before applying you won't be credited for that month.
* requires a French bank account
3. Get out and about
Paris has a multitude of options for transit, and many have special student rates that make it easy to explore the city.
By metro/bus – The Navigo pass allows for weekly (22€) and monthly (73€) transit subscriptions, including transit to Orly and CDG airports and to Versailles. The card costs 5€, and can then be refilled after the 20th of the month for the following month. The Imagine R pass for students is an annual subscription of 334€ (about 28€ per month). Find the steps for the Imagine R application here.
By bike – The Vélib city bikes can be found at stations across the city. Try them out for a day (1.70€) or a week (8€) or dive right in to a year long subscription (29€). Their online system is relatively easy to use, sign up online here.You can also buy a bike from a retail shop or sporting goods store (like GoSport of Decathlon). For a used bike, check out the Marché aux Puces (flea market), and keep an eye out for neighborhood events like the 'Bourse au Vélos' (bike exchange), but get there well in advance to have the best selection.
4. Invest in some very affordable museum memberships
Centre Pompidou – student OR under 26 = 22€/year
Membership office located to the left of the lines for tickets, make sure to bring official ID/student card! Individual entry to special exhibitions is 11€ – even if you're not staying for a full year, this card is definitely worth it.
Palais de Tokyo – student OR under 26 = 20€/year
Individual entry for students is 9€, so this is a great value.
Musée du Louvre = 15€ – 80€/year
Residents of the EU (which includes you, if you have a student visa) can enter for free, but you have to stand in long lines and remember your passport. Here are some options if you over 29 or care to avoid the hassle:
Ami du Louvre Youth card
– 1 year / under-26: €15 (one beneficiary) or €28 (two beneficiaries)
– 1 year / age 26–29: €35 (one beneficiary) or €60 (two beneficiaries)
Ami du Louvre (Basic member)
– 1 year / 1 adult: €80
– 1 year / 2 adults: €120
Office located in the underground commercial center, between the Carrousel du Louvre mall and the underground museum entrance. Open 9am – 5pm except Tuesdays, and until 9pm Wednesday and Friday.
Maison de la Poésie* – regular price 20€/year OR under 26 = 10€ /year
Located near the Centre Pompidou, this institution for poetry features lectures, readings, conferences, concerts, and more.
*events here are primarily in French, so it can be a great way to practice the language and meet local people
5. Check out the neighborhood farmer's markets
While Carrefour and Monoprix can be cheap and easy, there's no better way to get a taste for French culture than visiting your local market. On certain days of the week, famers, cheesemakers, butchers, bakers, and a variety of other vendors set up shop on the sidewalk in a display that provides a eyes and nose a culinary adventure. Don't be afraid to chat with the vendors, if things are slow enough. I've learned more about French culture and cuisine from them than in any class.
Keep your eyes open while you wander the city to figure out what is happening near you, and when (I found one while on the bus to and from school, and another while walking around a park). This website also provides a good of markets by area, although it's not comprehensive.
Hopefully this list helps make things a little easier as you transition to Parisian life. If you have any personal tips or tricks that you would like to share, or questions that you would like to have answered, please send them along to me (Forrest) at pelsf541(at)newschool(.edu)